The first Qualifying International Umpire Course in Europe after the pandemic was held during the weekend of February 25-26, 2023, in Varala Sports Academy, Tampere, Finland.
Varala is the oldest sports academy in Finland (est. 1909) and it provides several different sport facilities almost in the heart of the city center. The sport academy is used by different national teams and other sports teams in Finland.
Participants from 20 different countries took part in two days (12 hours), course, covering competition rules, protocol, and procedures from presentation to practice with scoring equipment on 3 rings, for the total of 114 participants.

This course was conducted by Master Abelardo Benzaquén (Argentina) and Grand Master Gordon Wallace (Scotland). It was the first one in Europe for Master Benzaquén as the chair of the ITF Umpire Committee. For the first time, Sbn Saija Aalto (Finland), member of the ITF Umpire Committee, was assisting in conducting the IUC.
The organizing team from Tampere led by Sabum Lasse Kuusisto, Laura Nikkola-Kuusisto along Master Mikko Allinniemi worked hard to make a great event. They also took the ITF Umpire Committee members to visit the upcoming World Championship venue in Tampere.
Grand Master Ung Kim Lan (Germany), member of ITF Technical Committee, was present to give technical advice. Also were present Grand Master Per Andresen (Norway), former Member of ITF Board of Directors, Master Mimmi Oscarsson (Sweden,) Member of ITF Board of Directors, Master Alexander Dunbar (Scotland), Chair of the European Umpire Committee, and Grand Master James Tjin A Ton (Netherland), member of the European Umpire Committee. There were all together 9 masters (8th and 7th degree) present at the course.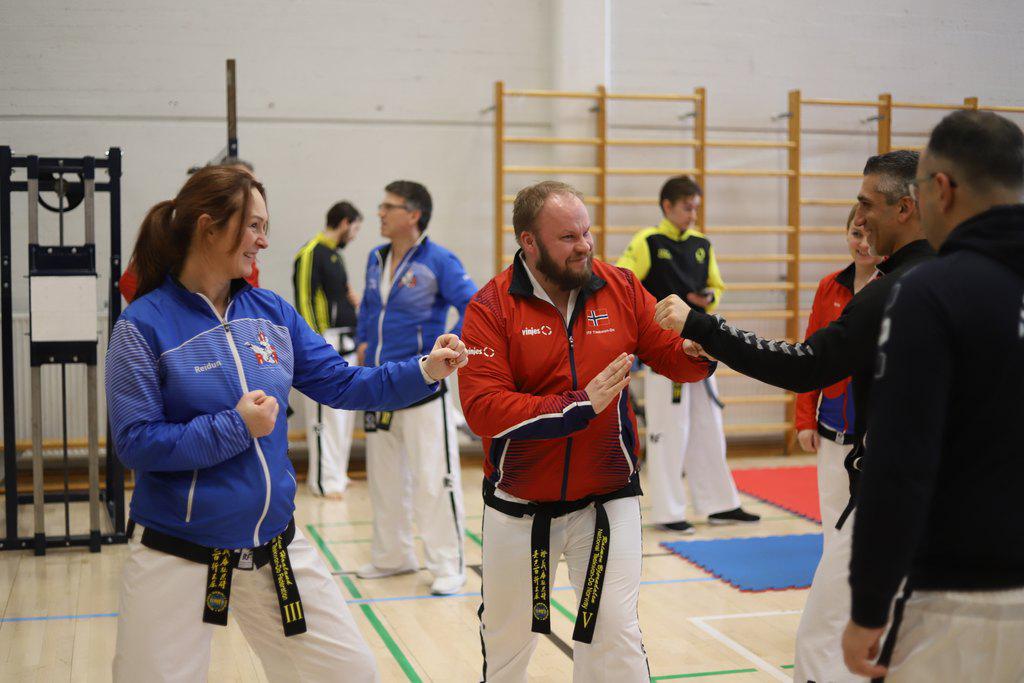 After some changes in the rules approved in 2022 there was a need to update the course materials. All the committee members were very happy to be back on a "live event" and meeting so many people in person after a long isolation.
It was amazing to get all the umpires back and welcome new umpires. Also was fantastic to see some competitors and coaches present and having a great input throughout the weekend.
Saturday was the inaugural day with a warm welcome to all participants. Then, started with patterns by Grand Master Wallace, followed by sparring, and special technique by Master Benzaquen, always with the great support of Sbn Aalto.
On Saturday evening, the Organizing Committee offered a special banquet and gave some special gifts to the Umpires Committee Members, Grand Masters, and Masters, with the presence of Umpires from all Europe.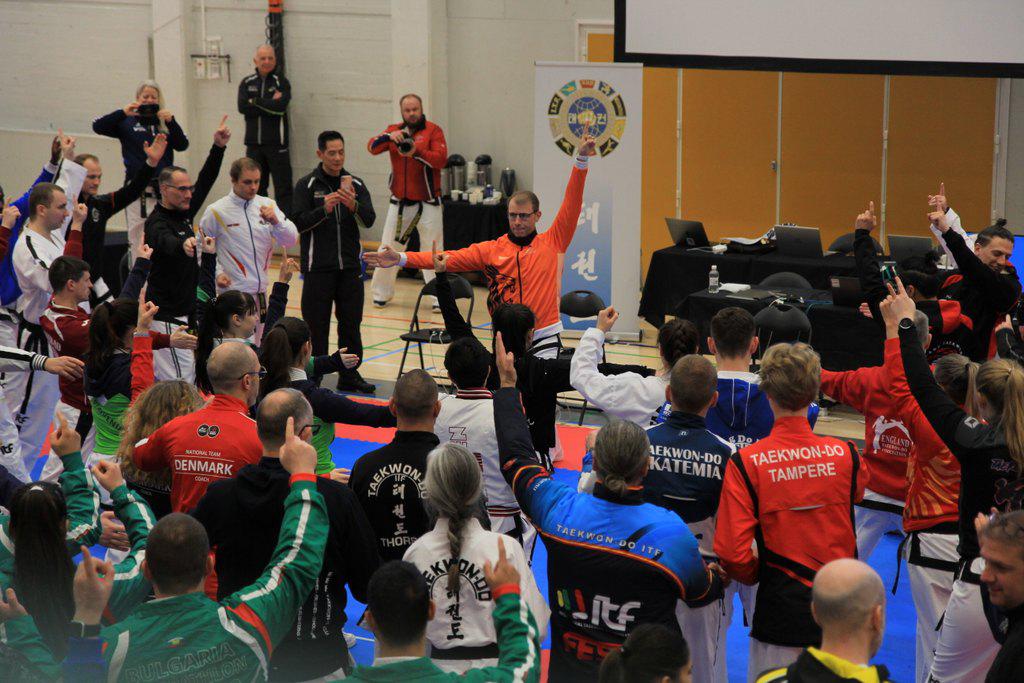 The seminar continued on Sunday with pre-arranged sparring conducted by Grand Master Wallace, power test by Master Benzaquén, and a tournament mode training session for all the participants, divided in the three competition areas leaded by the Umpire Committee Members with the collaboration of Grand Master Lan.
The seminar ended with the presentation of QIUC participation certificates and photographs with the ITF Umpire Committee Members.
The next IUC will take place in a few months in Malaysia.