The ITF feels proud to introduce the Kids Development Program, which has been developed over the last number of years specifically for the benefit of our children.
ITF Taekwon-Do has always been very welcome by the family as a whole and is well recognised for the benefits is brings in terms of behavioral improvement. At present, ITF Taekwon-Do is recommended by doctors and psychologists all across the world.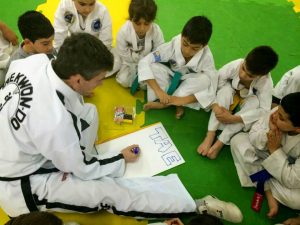 Our program, designed to be interactive with the home, reaches the little ones with a proposal that goes far beyond the teaching of an art of defence. It is also an essential contribution to the formation of the child, at a stage in his/her life when there is their minds and bodies are growing, absorbing information and learning, it is therefore an ideal time to expand their skills and chances of success in future, adult life.
This program aims at stretching the child's horizons, facilitating an early development of values which will help them to succeed in aspects such as organisation, leadership and teamwork.
we live in a world of increasing aggressiveness, where the risks of strangers, bullying and other sorts of of danger seem to be just around the corner. The ability to perceive them and recognise them in order to face them, r simply walk away from them, may turn out to be crucial at a given moment in life.
The ITF introduces this program as a resource to improve our society, to help understand one another beyond nationality, ethnic group, gender, religion or any other difference. In our way of thinking, the essence of this change must necessarily involve children, in the belief that harmony both in body and mind must be achieved, by training both simultaneously.
It gives me great pleasure to congratulate the excellent team who proved so able at shaping this program and who all so generously worked for the benefit of the ITF community.
Grand Master Pablo Trajtenberg
Former President
Notes for Parents/Carers
The ITF Taekwon-Do Kids development Program has been developed by the ITF as a means of teaching Taekwon-Do to children aged 4 to 7 years, but can be adapted to include 3 year olds. However, the contents of this program would be of benefit to anybody of any age.
Taekwon-Do is a Korean art of self-defence. It is a modern, effective martial art founded upon clear moral and ethical guidelines. Taekwon-Do is an ideal activity for children and it utilises the whole body and incorporates natural movement.
The TKD Program extends beyond self-defence to encompass the teaching of self-protection, important life skills and character education. Every parent's paramount concern is their children's safety, so we have included in-depth, safety orientated modules that focus on topics such as dealing with bullies and strangers.
Your child is at a crucial age when they are just entering society and are impressionable. Our program instils good attitudes, moral culture and confidence, giving your child a great start in life.
Our program has a wide range of benefits for your child including:
Confidence
Respect
Discipline
Awareness
Concentration
Channelling aggression
Balance
Coordination
Speed
Reactions
Fitness
Health