It is known that the Harmony Committee works to achieve the integration of adults and older adults both in training and in the different activities of Taekwon-Do, in order to promote the maintenance and improvement of the health and quality of life of the students.
For that reason, especially since the beginning of the COVID-19 Pandemic, led by its president, Sabum Nim Gastón Casero, together with members Sabum Nim Mayevi Galindo, Sabum Nim David Charlton and Sabum Nim Eduardo Quinteros, have been leading held weekly meetings.
The last ones, held during the current month of May, had as main focus the development of theoretical contents that serve as consultation, guide and study tools for the instructors who work with the Program.
On the other hand, the multiple world sparring champion was invited, Sabum Nim Soledad Serrano, who for a few years has been working with her own meditation and visualization exercises in her classes and gives workshops for instructors and students.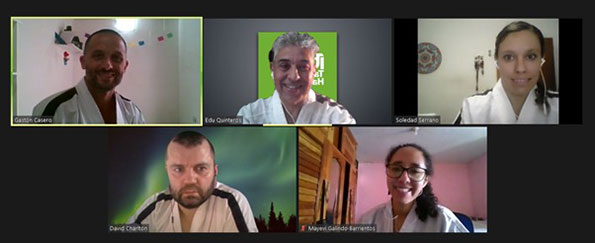 On the occasion, Sabum Nim who is a member of the ITF Hall of Fame, shared her knowledge with a view to a possible addition to the programmatic content.