On 17-18 April 2021 in Chhangathali Town (Lalitpur) was held the first Mahalakshmi Mayor's Cup National Junior (ITF) Taekwon-Do Championship among children, cadets, pre-juniors, juniors and adults. 
Around 300 players, coaches and officials from different states and districts participated in the competition.

Bagmati Province team became the winner while Gandaki Province team won the runner-up title. Manisa Tamang and Sameer Thapa were declared the best female and male players respectively.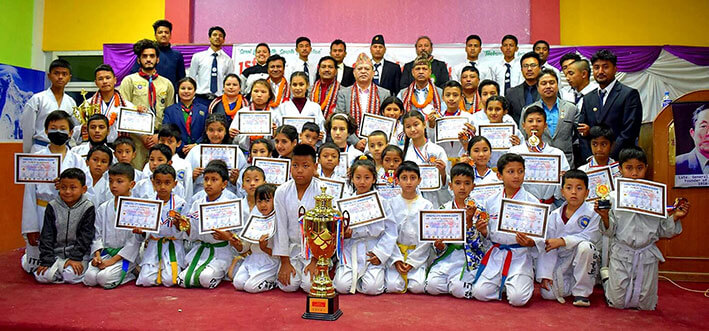 The winning team and players were honored with shields, certificates and medals by Rameshwar Shrestha, Chief Guest of the program and Mayor of Mahalakshmi Municipality. 
Executive member of National Sports Council Nanda Basyal, President of Nepal Taekwon-Do Federation Dinesh Sharma, Vice President Suresh Sahi, Abishek Malla, Board Member and Technical Committee Member Raj Kumar Darai, Rajesh Basnet and others were present on the occasion.
Tournament Director – Mr. Dinesh Sharma 
Tournament Secretary – Mr. Abishek Malla 
Tournament Coordinator – Mr. Bikash K.C
Tournament Deputy Coordinator- Mr. Rajesh Basnet 
Referee Chairman- Jury Head- Mr. Suresh Shahi 
Jury- Mr. Abishek Malla 
Jury- Mr. Raj Kumar Darai
Reported by Mr. Dinesh Sharma
President, Nepal TaeKwon-Do Federation