On February 10 – 12, 2023, ITF America was host for the International Instructor Course #164 held at the Wyndham Orlando Resort in Orlando Florida. This event was well attended with 209 participants from 12 countries. In addition to the United States, participants arrived from Canada, Puerto Rico, Jamaica, Israel, Dominican Republic, Colombia, Ireland, United Kingdom, Ethiopia, Honduras and Cuba. The result being the largest IIC held in the USA since 2002!

IIC 164 was taught by Technical Committee members GM Hector Marano, GM Ung Kim Lan and GM Pierre Laquerre along with Master Leo Oros Duek, who introduced the Adaptive Course to the participants for the first time in the USA by reviewing adaptive teaching methods for those with special needs.
On Friday, GM Laquerre opened the IIC with a lively and fun warm-up by introducing a variety of partner drills that challenged them with their balance, strength, control and endurance. This was followed by GM Marano and GM Lan teaching color belt patterns.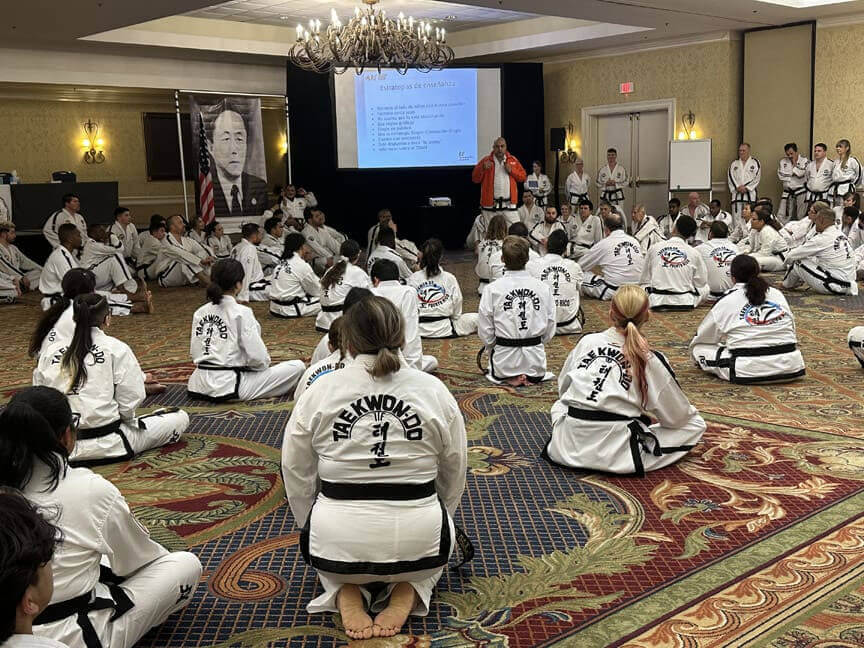 On Saturday, Black Belt Patterns, Step Sparring and Self-Defense training were covered during the 1st session, followed be the Adaptive Course in the afternoon. The participants really enjoyed the partner drills introduced by Master Duek on how to teach basic techniques to those with special needs and also how to communicate with them in a positive way. On Saturday evening, we celebrated with one another at the banquet, had a wonderful meal, some entertainment by the musical group JAGMAC and some dancing.
The seminar wrapped up on Sunday with high rank patterns and a spirited sparring session with drills led by GM Lan, followed by a series of stretching and flexibility exercises by GM Laquerre. The seminar came to a close with the presentation of promotion certificates, IIC participation certificates and pictures with the Technical Committee.