REUNIÓN DE COMISIÓN DIRECTIVA DE LA FEDERACIÓN CENTRO Y SUDAMERICANA DE TAEKWON-DO ITF VIA ZOOM
El sábado16 de mayo se realizó la primera reunión de la Comisión Directiva de la Federación Centro y Sudamericana de Taekwon-Do ITF, con la presencia de la totalidad de sus integrantes: Presidente: Abelardo Benzaquén de Argentina; Vicepresidente: Raúl Sánchez de Brasil, Secretario: Tulio Flores Aguilar de Perú; Tesorero: Gabriel Colina de Uruguay; Secretario de Torneos, Árbitros y Jueces: Omar Merodio de Argentina; Secretario Técnico y de Instrucción: Gustavo Livon de Guatemala y Secretario de Ética y Disciplina: Brian Buck de Costa Rica.
En la reunión se trataron temas de importancia para la región como la situación legal y formal de nuestra Federación y los planes que en un futuro inmediato se tienen, en cuanto se abra la cuarentena.
También se discutió la importancia de sumar esfuerzos de que los países miembros de nuestra Federación hagan su aporte para que la ITF sea incluida en el GAISF.
Se discutió el futuro de los campeonatos Panamericano y Centro Sudamericano y la importancia de que la Federación esté más cerca de cada país miembro y les brinde apoyo y asesoramiento permanente.
MEETING OF THE BOARD OF DIRECTORS OF THE ITF CENTRAL AND SOUTH AMERICAN FEDERATION VIA ZOOM
On Saturday, May 16, the first meeting of the Board of Directors of the ITF Central and South American Federation was held, with the presence of all its members: President: Abelardo Benzaquén from Argentina; Vice President: Raúl Sánchez from Brazil, Secretary: Tulio Flores Aguilar from Peru; Treasurer: Gabriel Colina from Uruguay; Tournaments, Umpires Secretary: Omar Merodio from Argentina; Technical and Instruction Secretary: Gustavo Livon from Guatemala and Ethics and Discipline Secretary: Brian Buck from Costa Rica.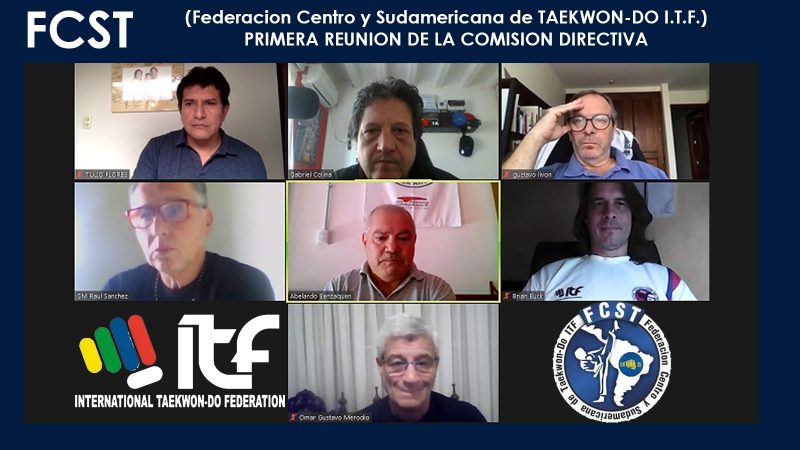 The meeting discussed issues of importance to the region, such as the legal and formal situation of our Federation and the plans that are in the immediate future as soon as the quarantine is opened.
The importance of joining efforts so that the countries of our Federation make their contribution for the ITF be included in the GAISF was also discussed.
Other issue discussed was the future of the Pan American and Central American Championships and the importance of the Federation being closer to each member country and providing them with ongoing support and advice.-
Master Abelardo Benzaquén
President
ITF C&S America Federation