In preparation for the VIII Taekwon-Do World Cup in October, the International Taekwon-Do Federation presented in a virtual meeting the newly introduced ITF policy to reduce the probability for a concussion in competition fighting (sparring).
In the first presentation on August 27, 2022, Mr. Kirk Lee, a medical professional and experienced in ITF competition, explained the danger of a concussion (or Traumatic Brain Injury) and how the ITF Concussion Policy is applied to quickly detect and treat the potential concussion in an ITF event. According to the ITF president Grand Master Paul Weiler "head injuries can have serious consequences and we all have a responsibility; the medical department, umpires, coaches, and also the ITF as an organization."

ITF sparring has always been a light contact system and requires proper safety equipment including head protection to avoid major injuries of the competitors. To increase the safety of our competitors, the ITF introduced in 2021 the so-called Tournament Concussion Policy which gives medical staff at all ITF competitions additional time to treat a competitor for a potential concussion, especially if a punch or kick to the head was the reason for the medical break. The medical staff will follow the standardized and acknowledged SCAT5 catalogue (Sport Concussion Assessment Tool version 5) to securely detect a potential concussion.
After a theoretical medical introduction raising awareness for concussions, their symptoms and potential danger, sparring videos of past ITF competitions were used to vividly show examples of different situations with potential concussions. The international audience of more than a hundred participants from all over the world was composed of many senior ITF members ranging from umpires and coaches to competitors and medical staff.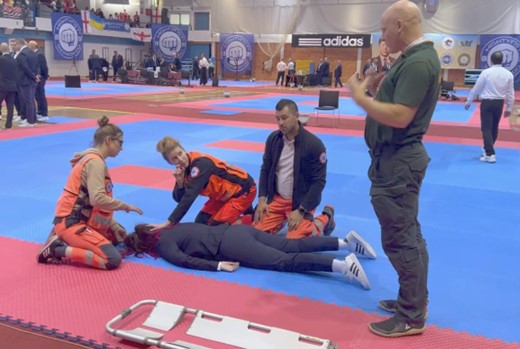 The ITF will offer additional virtual ITF Concussion Policy Presentations on September 10, 2022, such that every umpire, coach, and competitor for the upcoming ITF World Cup in Koper, Slovenia, is aware of how to avoid major injuries in our competitors. Registration to the free presentation is still possible in our previous article.
With this excellent preparation, the ITF World Cup will not only be the main competition event in a few years, but also the safest for our competitors.
Do you know that the world leading sport news media insidethegames.biz reported about our Concussion Policy Presentation? Here you can find the full article: https://www.insidethegames.biz/articles/1127495/taekwon-do-concussion