IIC 108, held this week, was truly a historic and memorable event.  With representation from around the world, including countries such as USA, Canada, Argentina, Norway, Australia, Germany, Argentina, Peru, Jamaica, and Scotland, this IIC was literally held across multiple countries as well as in international territory, becoming the first IIC to span multiple countries and the marking the first-ever IIC-At-Sea.
[separator top="40″]
Hosted by the ITF-USA, 70 black belts from around the world descended on Ft. Lauderdale, Florida in the US on Monday to board the Independence of the Seas, a massive ship holding 4,500 passengers.
[separator top="40″]
Trainings were provided by four Grandmasters, including Grandmasters Marano, Lan, Weiler, and Van Binh. A professional conference center on board the ship served as the venue for the entire week, with trainings held on Tuesday, Thursday, and Friday.  In addition, Thursday's session included a once-in-a-lifetime Training on the Beach in Haiti with four Grandmasters, dedicated to the memory of our late Grandmaster Tran Trieu Quan, who gave his life helping the people of this beautiful island.
As a part of the week's activities, our members enjoyed the vacation of a lifetime, combining the IIC and their love of Taekwon-Do with stops in Jamaica and Haiti, participating in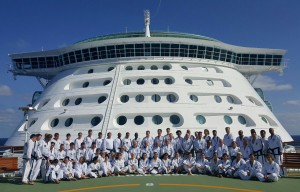 snorkeling, zip lining, catamaran sailing, hiking, jet skiing, swimming,  and boating.  Some brought along family and friends, sharing this event with those closest to them.
We'd like to thank very much the Grandmasters Marano, Lan, Weiler, and Van Binh for instructing at this historic event, and the ITF-USA for accomplishing what no one before them could.  We would also like to congratulate our new Master Moustafa of Australia, who successfully tested for VII Dan on Tuesday  night of the cruise.