During February 26th and 27th was held the 17th International Kids Course in the stadium of the Department of Recreation and Sports of the city of San Juan, Puerto Rico, organized by the Asociación Nacional de Taekwon-Do de Puerto Rico.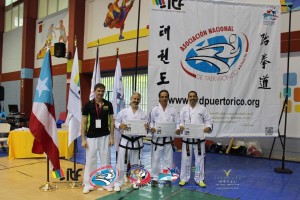 The opening ceremony was attended by the Undersecretary of the Recreation and Sports Department of Puerto Rico, Mr. Juan "Pucho" Figueroa, who was pleased to count with an international course of this kind and offered the collaboration of the Department for future events.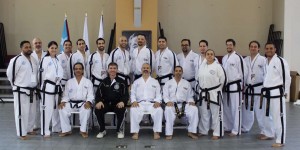 After that, it was officially opened the 20th International Instructors Course for Children.
The course was dictated by Sabum Nim Fabian Izquierdo, who shared his knowledge, teaching methods and experiences with a group of 60 participants from different towns of the island, including 15 International Instructors, 2 Masters and 2 participants from Anguilla.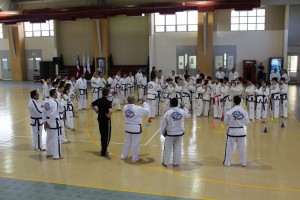 The course was divided into different modules with the purpose to publicize the contents of the Children Development Program, the mechanics for its implementation and to provide the knowledge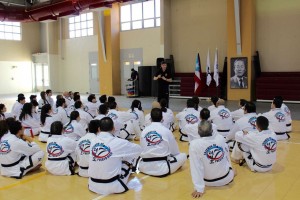 concerning the tools to teach children.
Among the relevant topics were the development stages, the modern education, and the learning of discipline and creativity. All the mentioned topics were addressed theoretically, after which were performed different practical applications through individual written exercises, in groups and through games.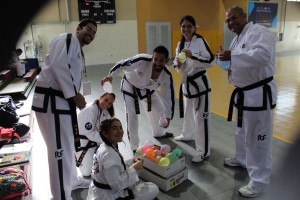 Special mention deserves the bullying treatment, a topic that led to talks, reflections and to share personal experiences on the matter.
To conclude the course, a practical work was performed in teams, in which they were due to apply all the concepts discussed during the intense hours of exposure.

Final Event
On Sunday 27, the Masters, Instructors and Assistants, dedicated to Sabum Nim Izquierdo the 2nd Taekwon-Do Kids Event. This event was organized by members of the Asociación Nacional and the Board of the Puerto Rico National Team.
It took place in the modern facilities of the Coliseíto Pedrín Zorrillas, a stadium that belongs to the Autonomous Municipality of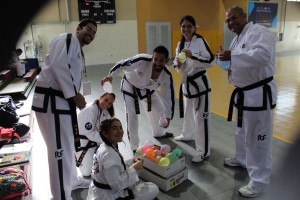 San Juan and was attended by 140 children between 3 and 7 years, and counted with the presence of hundreds of parents, caretakers and family who not only enjoyed the activities prepared for the children, but they themselves participated in games.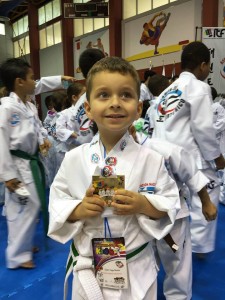 Among the activities carried out we can mention a role playing game starring by Instructors dressed as Superheroes; coordination, reaction, speed and teamwork games and those purely recreational.
It's worth to mention that all the children received a medal for their participation.
Finally, from the Asociación Nacional de Puerto Rico, we thank Sabum Nim Fabian Izquierdo, for sharing his knowledge, experiences and ideas, but above all, for the dedication with which he shares this great passion.
¡Taekwon!
Master Gato – Gato
President ANT Puerto Rico