IIC Canada December 2022
Dec 2
8:00 am
–
Dec 4
5:00 pm
Dear Grand Masters, Masters, Instructors and Students
This particular IIC will be dedicated to the memory of Grand Master Trân.

The whole IIC will be held at the Hotel located in the main terminal of Montreal airport (YUL). Everything in the same spot for our out of town, national and international travelers. No need for taxis, shuttle or transport between venue and hotel. Train, then relax and socialise with friends and committees.
The IIC will be held from Friday, December 2nd to Sunday, December 4th , 2022 and will be conducted by the ITF Technical and Instruction Committee:

* Grand Master Héctor Marano – Argentina
* Grand Master Ung Kim Lan – Germany
* Grand Master Pierre Laquerre – Canada

Special Guests:
* Grand Master Clint Norman – Canada ITF Executive Vice-President and CTFI President
* Dr. Janel Gauthier Chairman of the Do & Ethics Committee

REGISTRATION OPEN | Places will be limited!
• Our association Website : https://elements-ma.ca/yul-iic
• Online registration for IIC : https://www.amilia.com/store/fr/artm/shop/programs/73021
• Online shop for ticket banquet sale and other products : https://www.amilia.com/store/fr/artm/shop/products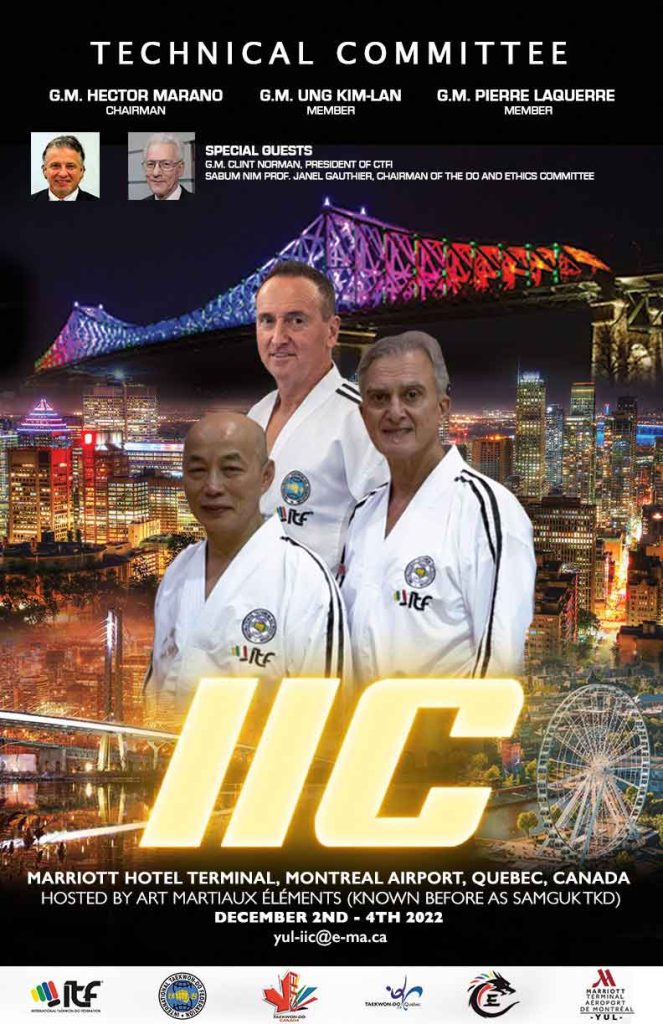 Related Events