Black Belt Cup – Austria
Nov 14, 2015 8:00 am

-

5:00 pm
After the 15th June 2002 when we held our 1st Black Belt Cup we would like to invite you  again to the  2nd Black Belt Cup on 14th Nov 2015.
The Tournament will be held in St. Pölten (capital of Lower Austria) and is aimed to children, cadets, juniors and seniorsstarting from 8.Kup up to VI.DAN in the following competitions:
Sparring – all age groups
Pattern – all age groups
Special Technic – all age groups
Power Test – seniors only from 4.Kup
Times/procedure:               09:00                           Start of competition
12:00                            Opening ceremony – line up of all competitors
12:15                           Continuation of competition
18:00                            Awards presentation and closing ceremony
Places 1-3 will receive medals or trophies but all competitors will receive a certificate to commemorate their participation.
GM Tom MacCallum IX.DAN (ITF board member) will be our honorary guest at the Tournament!
2nd Black Belt Cup 2015 — Invitation
2nd Black Belt Cup 2015 — Registration Form
Please don't miss the registration deadline of 7th November 2015 — 24:00 hrs
If you have any questions please don't hesitate to contact me.
I am looking forward to meeting you in Austria.
Best regards!
Elmar Kickingereder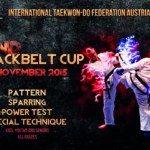 Invitation 2nd BLACK BELT CUP 2015 – ITF-Austria (englisch) Registration Form 2nd BLACK BELT CUP 2015 – ITF-Austria 
Related Events