The schools ITF Brussels and Samjok-O, led by Master Virginia Dionisi and Sabum Benito Martínez, organized a two-day Taekwon-Do Adapted Course in Ottignies-Louvain-la-Neuve, Belgium. This course was conducted by Master Leo Oros Duek, chairman of the ITF Inclusion Committee and President of AETF, and by Master John McIlvaney, member of the ITF Inclusion Committee and Chairman of the AETF Inclusion Committee.
The course was aimed to provide specialized training to instructors who wished to teach practitioners with special needs. The event brought together instructors from Belgium, Luxembourg, Spain, Scotland, Romania, Germany and Israel. It addressed various pathologies such as down syndrome, autism, hyperactivity and hypoactivity, blindness and deafness. The presence of the Grand Masters Lan Ung and Frank Vanberghen, and 5 Masters added value and expertise to the course.
The course consisted of a combination of theory and practical sessions, allowing participants to gain both theoretical knowledge and practical experience.
The course commenced with an opening ceremony, including introductions, speeches, and an overview of the course objectives. The sports representative of the City Council of Ottignies-Louvain-la Neuve, Mr. Benoit Jacobs, was present. He received a book about Adapted Taekwon-Do from the hands of Master Oros Duek. The organizers thanked him for the support received from the city council to organize the event. Afterwards, Master Annick Van Driessche, president of the Belgian Federation welcomed the participants, the instructors and the organizers.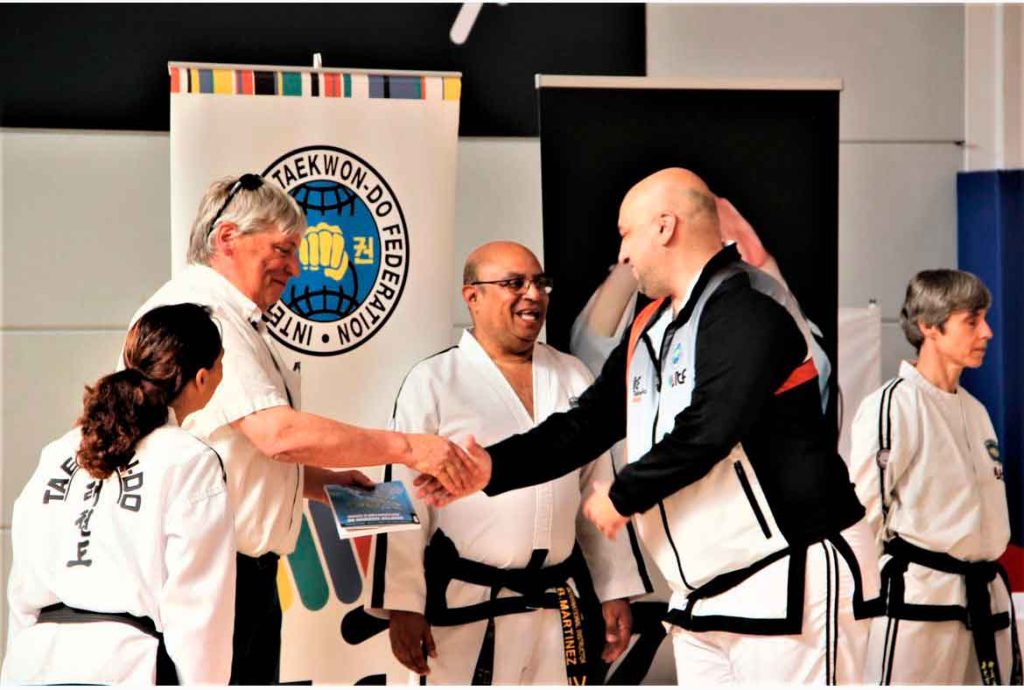 Master Oros Duek delivered presentations on specific pathologies related to hyperactivity and hypoactivity. These presentations provided valuable insights into the challenges faced by individuals with these pathologies and guidance on adapting teaching methods accordingly. This session emphasized the importance of individualized instruction or integration of such practitioners into the class, communication strategies, and modifications to training exercises.
Master MacIlvany' session focused on practical demonstration. Participants had the opportunity to observe and actively participate in these demonstrations, gaining hands-on experience in working with practitioners with special needs, notably with blindness.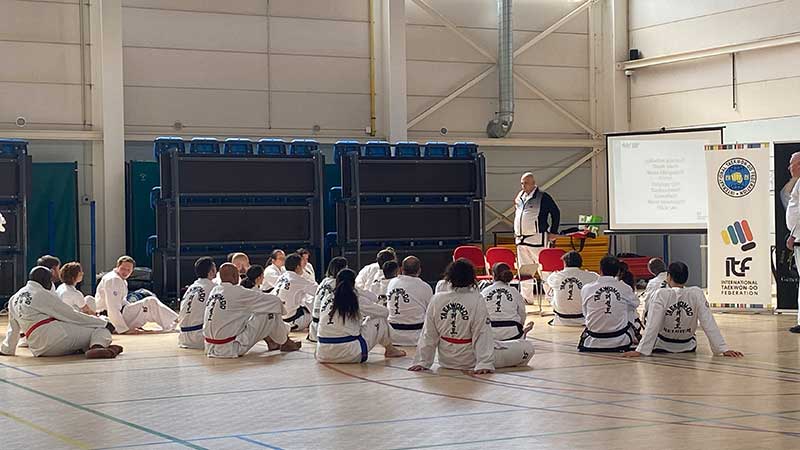 In the evening some participants enjoyed a walking tour, and afterwards a banquet in the city center of Louvain-la-Neuve.
The second day started with case studies and group discussions about down syndrome and autism conducted by Master Oros Duek. Case studies and videos were presented, showcasing real-life scenarios faced by instructors when teaching practitioners with special needs. These case studies encouraged group discussions, allowing participants to share their experiences, brainstorm solutions, and learn from each other's insights. Adaptive training strategies were discussed. Participants were introduced by both instructors to modifications for warm-up exercises, patterns and sparring, ensuring inclusivity and safety for all practitioners.
An interactive question and answer session was conducted, enabling participants to seek clarification on any doubts or challenges they encountered during the course. At the end, Master McIlvany conducted a meditation session.
The course concluded with a closing ceremony, during which participants were awarded certificates of completion. The instructors delivered closing remarks, expressing their appreciation for the dedication and commitment of the instructors in promoting inclusivity in Taekwon-Do.
As a conclusion, the IAC successfully provided instructors with: (i) the necessary knowledge and skills to teach practitioners with special needs, and (ii) a platform to exchange ideas and best practices regarding teaching methodologies and techniques. The presence of esteemed Grand Masters and Masters further enhanced the learning experience for participants. With no doubt, this course played a significant role in promoting inclusion and accessibility by empowering instructors and practitioners to cater to a diverse range of Taekwon-Do practitioners.