ITF America, in partnership with Poteet Martial Arts, was host to ITF QIUCo39 in Midlothian, TX on May 7th & 8th, 2022. The course was instructed by the ITF Umpire Committee Chair, Master Benzaquen, along with committee member GM Ruben Suarez. Supporting them was ITF Technical Committee member GM Pierre Laquerre. Attending were 47 participants from 7 countries including Anguilla, Canada, Dominican Republic, Guatemala, Jamaica, Mexico and the United States.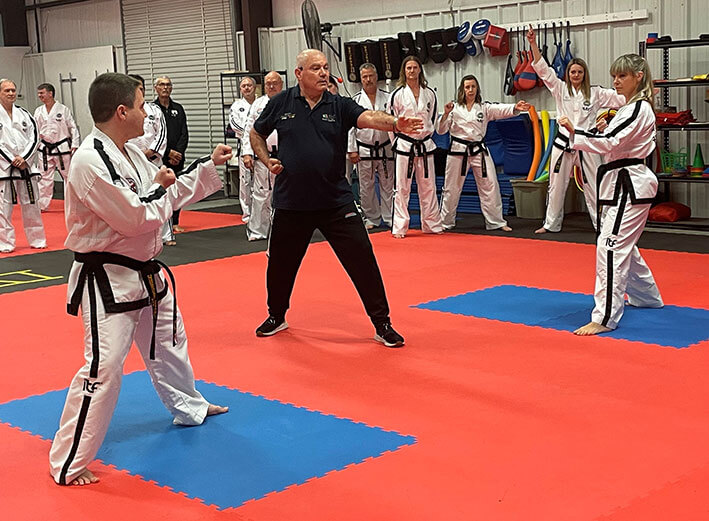 Master Benzaquen conducted the official opening of QIUC39 and welcomed the participants to the course. He, along with GM Suarez, followed with an overview of a typical World Championships and the roles of the umpires. Rules and formalities for pattern competition, including team competition, was covered next with umpires practicing entering and exiting the ring and the use of hand signals to move competitors in and out of the ring.
GM Laquerre discussed the new relationship between the Umpire Committee and the Technical Committee and noted that this was the first IUC in which a member of the Technical Committee presencially attended in support of the Umpire Committee.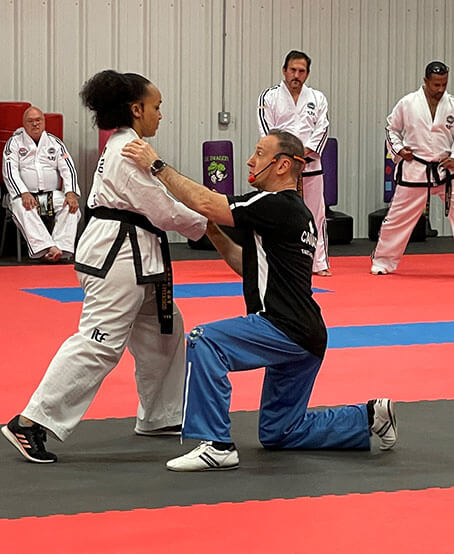 Sparring competition rules were covered next with participants able to watch and analyze videos of World Championship bouts to demonstrate the speed of the competitors and difficulty in correctly identifying a point.
To demonstrate the difficulty in judging patterns and assist the umpires on things to look for, GM Laquerre observed severañ competitors performing a pattern one technique at a time pointing out deductions that could have been taken for each competitor.
The course closed on Sunday afternoon with awarding of certificates and Mr. & Mrs. Poteet presenting Master Benzaquen, GM Suarez and GM Laquerre authentic cowboy hats.
Fellowship is also an important part of these events with participants gathering at a local restaurant on Saturday evening and a large group joining Master Benzaquen, GM Suarez and GM Laquerre for a trip to the Fort Worth Stockyards on Sunday to complete the Texas experience.