On November 7-8, All Russia Taekwon-Do Federation (ARTF) organized online umpire course for its members were Russian speaking umpires from various countries participated.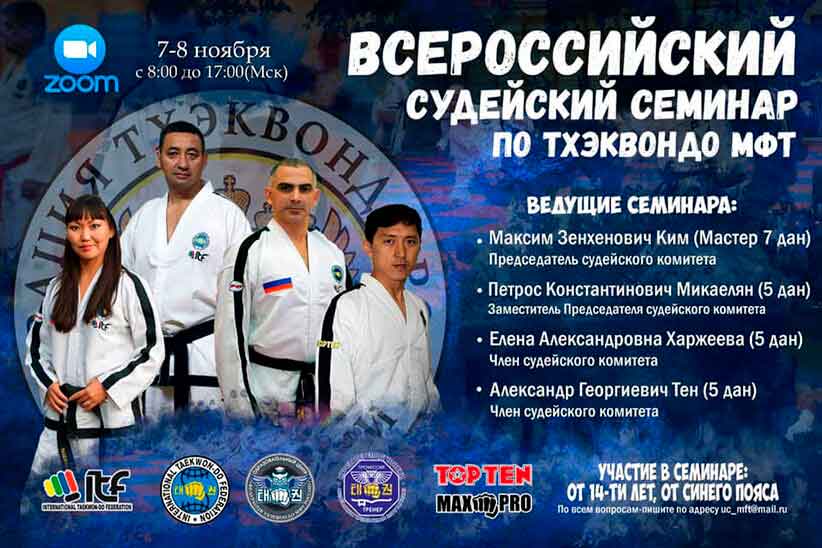 Course was attended by 232 umpires and coaches from 39 districts of Russia!
The special guest of the course was the ITF Vice-President Master Lazaros Tsilfidis.
For two full days the participants were trained in umpiring all disciplines of Taekwon-Do ITF.
Course ended with an exam. As a result, 98 people received ARTF umpire accreditation.
Totally 253 coaches and umpires from 9 countries ITF members took part in this course:
Belarussian Association of Taekwon-Do (NA).
All Latvian Taekwon-Do Federation (AA).
Kazakhstan Youth Federation Taekwon-DO (Recognized Club).
Kyrgyzstan Taekwon-Do Federation ITF (NA).
Federation Taekwon-Do ITF of Ukraine (SAA).
International Taekwon-Do Federation Uzbekistan (NA).
Tajikistan Taekwon-Do Federation ITF (NA).
The Israel Taekwon-Do Association (NA).
All Russia Taekwon-Do Federation (NA).
The course was conducted by ARTF Umpire Committee – master Maxim Kim, Sbn. Petros Mikaelian, Sbn. Elena Kharzheeva and Sbn. Alexander Ten.
The number of professional umpires is growing every year. This allows us to hold many tournaments with professional umpiring!
All Russia Taekwon-Do Federation