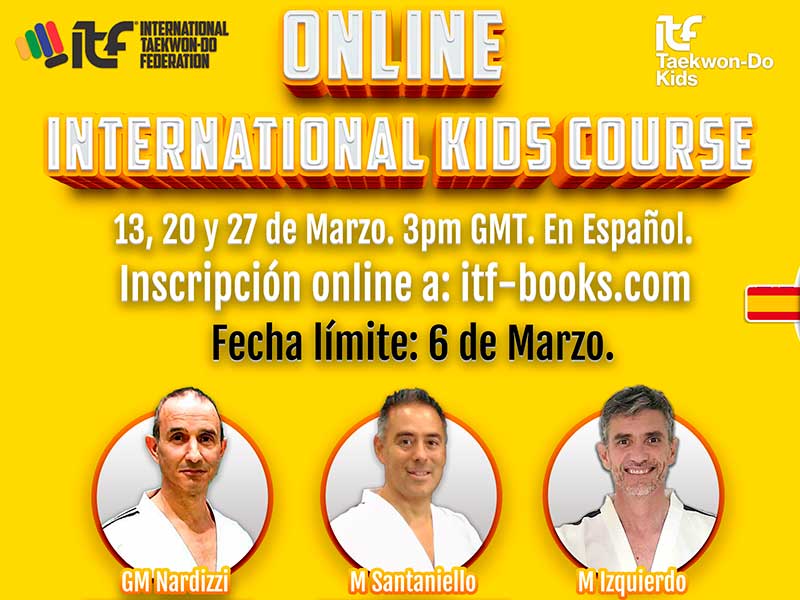 Who can participate?
ITF members from Red Belt (2nd Kup) and above aged 16yrs and above.
How do I register for the course?
Please visit ITF-BOOKS.COM to register for the course.
What are the dates and times of the course?
13, 20 and 27 March 2021 – From 3:00 pm to 5:00 pm GMT (in English).
How much does it cost?
€30 for the whole course (3 x 2-hour seminars).ITF Committee Chairpersons may attend for free (Please contact [email protected] )
What is the dress code?
ITF Dobok.
What does the course cover?
Seminar 1Topics – TKD program Overview; Warm-Up Games; Morphing Principle; Health & Fitness; Coordination Skills.
Seminar 2 Topics – Class Management; How to teach Skills (TKD, Life Skills, etc.); Theory of progressive skill development.
Seminar 3 Topics – TKD Attitudes, Communication; Discipline; Danger Awareness.
Who will be conducting the course?
Seminar 1 – Master Ernesto Santaniello.
Seminar 2 – Master Fabian Izquierdo.
Seminar 3 – GM Donato Nardizzi.
What language will the course be in?
In Spanish.
Who is the course for?
The course is mainly for instructors who wish to teach the Kid's Program but it is also useful for assistant instructors/helpers of the Kid's Program, and people with a general interest in teaching Taekwon-Do to children in the 3yrs-7yrs age range.
Will I get a certificate for the course?
Participant who attend all 3 seminars in the course will receive a digital certificate of participation.
Will I get a qualification from the course?
The course doesn't give you a Kid's Program Instructor's qualification directly but it can be used to contribute in gaining that qualification. There are two ways of getting a Kid's Program Instructor's qualification. One way is to attend a 12 hour International Kids Course (IKC) and pass the exam.
The other way is to attend an Online International Kids Course (OIKC) + two physical Kids Program workshops, (such as the ones included in some IIC's or ones organised by an NA/AA which is conducted by a Children's Development Committee member) and pass the exam.
Is there an exam for the course?
There is no exam for this OIKC but there is an exam which can be taken later to gain the Kids Program Instructor qualification.
Will there be physical activities in the course?
The course will mainly cover the theoretical aspects of the Kids Program including pedagogy, scientific and philosophic principles of teaching the Kid's Program but it will also teach many practical strategies and there will be some physical activities for those who wish participate.
Will we be able to ask questions during the course?
Yes, there will be an opportunity to ask questions but the questions must be submitted via the chat facility. We will select which question will be answered.
What will I receive when I register?
You will receive a confirmation e-mail which will also be a receipt of your payment. Later, (probably the day before each seminar) you will receive the Zoom link via e-mail. You may also receive more information via e-mail before the course starts.
Do I have to attend all 3 seminars?
To complete the course, you must attend all 3 seminars but if you miss one of the seminars you will still be able to attend the others.
If I have a question about the course, who do I contact?
If you have any question which is not answered above you can contact [email protected] for more information.