Day four of the World Cup 2022 in Koper, Slovenia. After an excellent fight in the dramatic semi-final of female sparring 18-35 years 60-65kg, Mira lost against her Romanian opponent in the last few seconds with 3 to 1 umpire votes and won the bronze medal.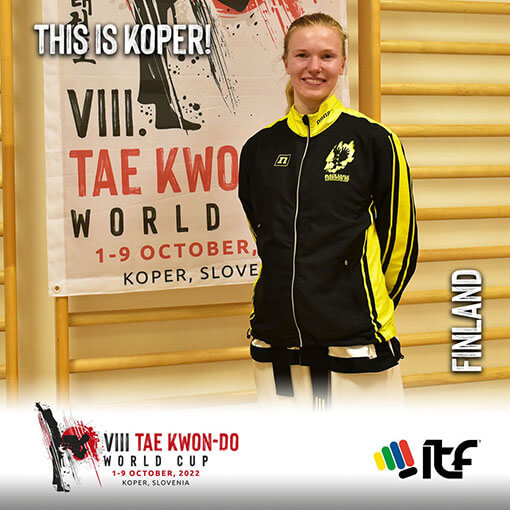 The day before, Mira presented her well-balanced training and long experience when she competed in pattern 3rd degree black belt and made it into the quarter finals in a field of 28 competitors.
Mira started Taekwon-Do 12 years ago as a girl and due to the great influence of the movie "Kung Fu Panda". Her parents, who have some experience in martials arts on their own, supported Mira immediately and throughout her Taekwon-Do career. Already in 2015, she made it as a Junior into the Finnish national team and competed since then on various international events. By now, she is a 2x World Champion and a 5x European Champion.
Despite of the hurdles due to the COVID pandemic in the last years, Mira practiced with a lot of patience. In the last months prior to the World Cup 2022, she increased her preparations and practiced especially her speed for sparring and her power for pattern.
The next memorable step in Mira's Taekwon-Do career will be for sure the World Championships 2023 in her hometown Tampere in Finland.