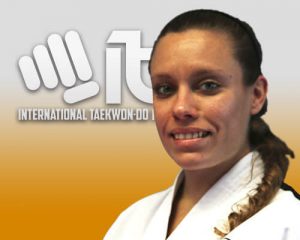 Place and date of birth: Capital Federal, Argentina, 04/03/1985.
Year the practice started: 1990, when I was 5 years old.
Detail of her sports achievements.
Junior World Cups:
Korea 2000.
Puerto Rico 2002.
Adult World Cups:
Poland 2003.
Germany 2005.
Canada 2007.
Argentina 2009.
New Zealand 2011.
Other achievements and recognitions:
4 times Pan American champion in Patterns and Sparring (2004-2008-2010-2012).
In 2008 and 2010 Overall, the Best female competitor.
13 uninterrupted years member of the Argentine National Team (2000-2013).
In 2015 I received the Outstanding Personality Award as a Competitor for the ITF Hall of Fame.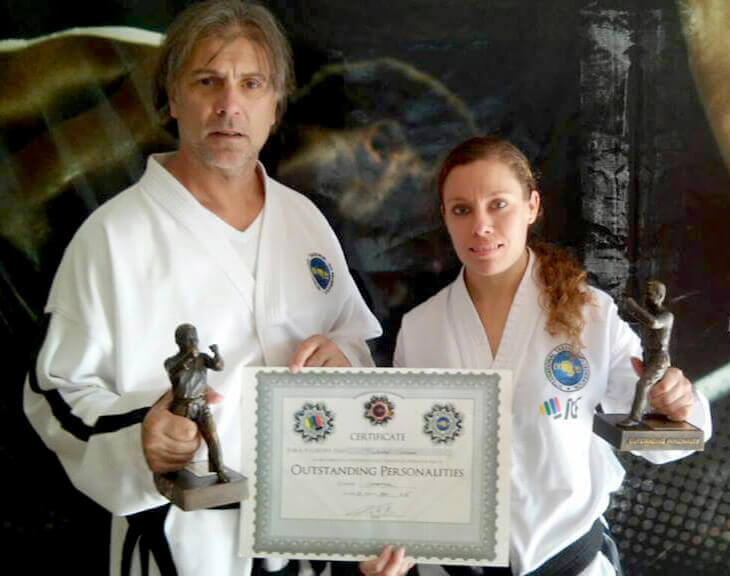 Who was your coach?
Master Edgardo Villanueva.
What was the training routine like?
I prefer not to talk about routines because they were all different. I was always lucky enough to classify in all disciplines (Pattern and individual Sparring) and integrate the team (Pattern, Sparring, Special Techniques and Power Test), so I trained a complete Taekwon-Do.
I remember that for each World Cup I trained 7 hours a day (5 continuous hours with all the modalities of the team), plus another 2 hours at night, for the individual competition.
What was the best moment in a world cup?
Although all the individual podiums have a significant weight, I am left with 2 moments:
The first of them, when winning the gold in the Adult World Cup in Poland 2003, while still young; and the second, when in New Zealand 2011 I won gold in Patterns for the fourth consecutive time (which was a world record in the women's category).
What was the worst moment in your professional career?
I do not know if it qualifies as the worst moment because a Silver medal is not a small thing, but I would have liked to win the final in Argentina 2009, climb the highest step of the podium in my own country and celebrate the victory with my people.
Nobody is a prophet in their own land.
Who was inspired by? Who was your competing idol?
I did not have an idol, but I remember that when I went to see the World Cup in Argentina in 1999, at the Luna Park stadium (very famous place), it marked me forever. I was fascinated, and I said to myself: "I want to be there, representing my country in a World Cup." And the following year, when I was 14 years old, I qualified for my first youth world championship in Korea.
Sacrifices What was the biggest effort you had to face to achieve your sports dream?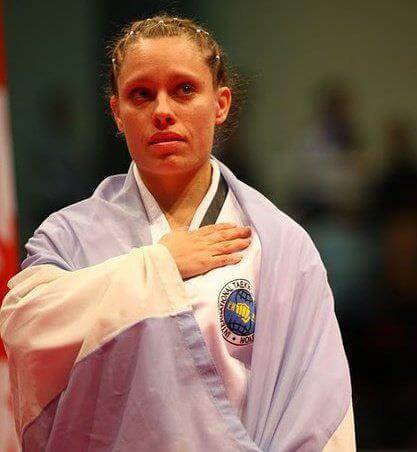 It is known that all Argentines have to have two jobs to be able to face each trip and the previous selective tournaments, in addition to a "25-hour day" to train to be at the height of a world cup.
After those two jobs and sometimes, also, after studying, teaching and losing 9 kg. to maintain the weight of a category, it happened that each World Championship was more sacrificed than the previous one. The latter, not only due to the depreciation of the Argentine currency, but also due to the academic and labour obligations that add up as one grows.
What are the Taekwon-Do values ​​that most contributed to its development?
Undoubtedly, Perseverance and the Indomitable Spirit.
I think there is no world champion who is a talented born. All who reach the top are made of sacrifice and hard work, of fighting even, against their own physical limitations.
In my opinion, if there is a talented person who arrives, it is a coincidence, and surely, he or she does not value that achievement as much and does not maintain himself or herself over time as the one who had trouble achieving it.
What are your main recommendations for future practitioners?
Phew!!! Today it is difficult to make recommendations to a teenagers. Although they show that they are getting better physically, as I said before, that makes them work less on themselves and on a mental level, even less.
We live in an age where at the touch of a button on a screen, you have what you want. So, we talk to them about effort, sacrifice, commitment and discipline and they quit.
In this way, it is difficult for them to fight for their dreams.
Miscellaneous
To conclude with what I said earlier about how difficult it is for young people today to commit to a discipline or to their own goals, to self-discipline and to work long-term for what they want, I developed the "Meditan-Do – Martial Meditation" aimed not only to Competitors but also to practitioners in general, as a means of helping them to take each practice as a challenge.
Through the exercises that I propose and using Meditation, Visualization and Mental training as a basis, the practitioner will learn to know how he or she works under pressure, how to achieve the pleasure of competing or simply training, as well as how to motivate himself or herself, "activate", self-discipline, how to control emotions at key moments, how to redirect negative thoughts and how to connect with his or her desires and goals.
"Meditan-Do – Martial Meditation" is, then, the result of so many sacrifices, self-improvement, emotional strength and mental focus to achieve each of those achievements and medals that I mentioned above.