With the presence of representatives from Argentina, Bolivia, Brazil, Chile, Colombia, Costa Rica, Ecuador, Guatemala, Honduras, Mexico, Nicaragua, Paraguay, Peru, Uruguay, and Venezuela, a meeting took place between the president of the ITF, GM Paul Weiler, M. Leonardo Oros Duek, ITF Treasurer and leaders from Central and South America.
In addition, among the attendees were GM Héctor Marano, president of the Technical and Instruction Committee, and other members of other committees such as the Adapted, Kids, and Development and Communications and Umpires Committees.
After welcoming and thanking the participants, M. Abelardo Benzaquén, as president of the Central South American Federation, gave the floor to GM Weiler.
The opening remarks by the president, GM Weiler, were about the current of the ITF, making an inevitable reference to the pandemic. Still, he placed particular emphasis on the plan for 2022.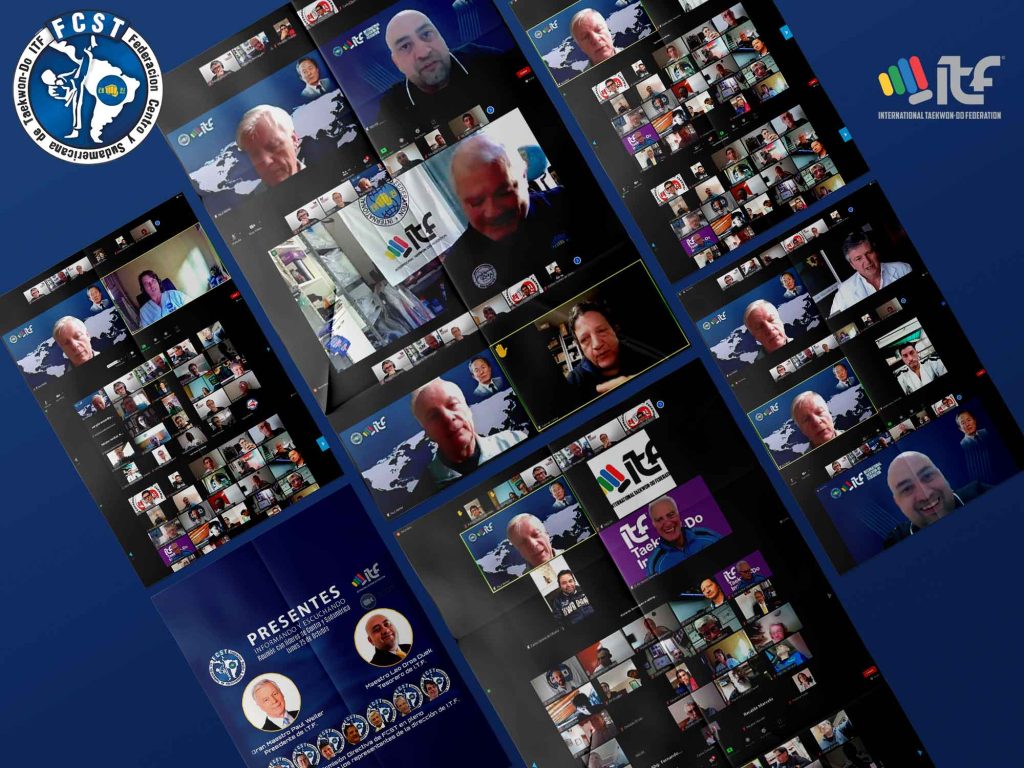 As relevant points of that calendar, which the president will be share shortly with all members, and through the slogan "Back to the roots", he took the opportunity to announce the holding of an IIC on April 9, 10, and 11, 2022 in Korea, within the framework of the project to develop Taekwon-Do in Asia.
In another passage, he pledged his presence between next December 2 and 4, on the occasion of the 8th Central South American Open Championship that will take place in Foz do Iguazú, Brazil, to continue with the series of meetings with the leaders of the countries of the continent.
Alternating with the president in the responses to the concerns raised by the national representatives, the ITF Treasurer provided details about the worldwide protection specified on the brand and official logos, clarifying that each country must inform the particular situation to consult the legal advisor.
He also took a screenshot of the characteristics and operation of the new ITF database system that is about to be implemented.
About the exit of our organization of some GMs, it was made clear that the decision of the Board of Directors is forceful, the ITF Rules must be followed by all members, regardless of positions or categories.
Faced with inquiries related to conducting IICs, GM Marano replied that the calendar for 2022 has already been determined and that the Technical and Instruction Committee intends to take the courses to the region's different countries so that each one has his chance.
He also anticipated that the next IIC in Argentina, scheduled for May 2022, will have a limit of between 500 and 550 participants.
Before the close of the meeting, GM Weiler reported that he prepared a presentation on spinal stabilization and warm-up exercises, which will be shared on the website.
Finally, M Abelardo Benzaquén added to the numerous expressions of gratitude to the president, and through him, it was extended to the entire Board of Directors for the possibility of dialogue and the accompaniment that has been carried out to the particular situation in each country region.