The Open Dutch 2020 edition was held on Saturday the 25th of January. We limited this edition to a maximum of 700 competitors and decided to only open registration for A, B, and C class. You may wonder why we made this decision, from the very first edition it was always our goal to have a high-quality taekwon-do tournament in Europe with global top competitors. We feel it is fair to say that we have achieved this goal, but in order to ensure quality, we needed to limit quantity. Hence we decided to focus on A, B, and C-class and put a limit of 700 in place. With 696 registered competitors we came very close to this limit. Like previous, the level of competition was extremely high.
The competitors came from 23 nations and brought 72 umpires, to once again support the 10 rings we had set up in a single hall. On top of that there were 200+ coaches from 99 different clubs and hundreds of spectators!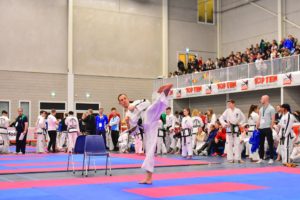 We have witnessed some great matches. Let's list some of the winners here that stood out to us. The patterns competition was largely dominated by Norway, Finland, and England. World Champion Lylian Doulay took home gold and won the finals against Joni Ohtonen from Finland. Christopher Lau took home the gold medal in the 1st degree black belt junior category again.
Sparring was very exciting, and we had the best fighters from all over Europe. This year Russia and Belarus joined the competition for the first time, and they brought great fighters. We hope to welcome them again at the 2021 edition. Various World Champions competed, and managed to take home a gold medal. From Slovenia Tyra Barada (junior  female), Vitalii Solovey  from Ukraine (senior male), Magomed Naurdinov from Norway (senior male), Nina Meppelder from The Netherlands (senior female), and Danylo Demchsshyn from Ukraine (senior male). We are very proud that they competed at our tournament, and also want to congratulate them with their results and hope to be able to welcome them again next year!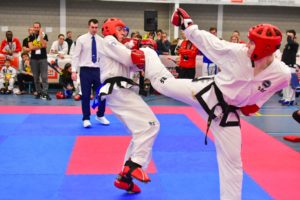 We also want to acknowledge Jorg Gubbels, who won the -70kg category and the overall -70kg category. Same applies to Karoline Konik from Poland, who managed to win both the -62kg category and the overall -62kg. category. And let's not forget Nina Meppelder and Bartosz Slodkowski who both also won their weight class and the overall category. Very impressive, well done all!
There were also overall trophies for best club in the black belt division and the color belt division. In the color belt it was Belarus Taekwon-Do Association that took home the trophy, and in the black belt division it was Rivervally from Ireland who won the most prices.
All results for all categories can be found on Sportdata here:
https://www.sportdata.org/taekwondo_itf/set-online/popup_main.php?popup_action=results&vernr=177&active_menu=calendar
If you don't want to miss out on next year's edition, make sure to follow our Facebook page to find out when it will be, we will announce this soon and we will also share hotel booking codes for a nice discount. (https://www.facebook.com/OpenDutch/) Also, our website has links to all the various photo pages for those who are curious what it looked like and will have the latest news for those not on Facebook. (http://open-dutch.nl/)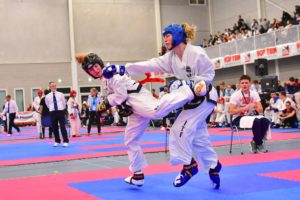 We want to thank all of our volunteers, visitors, competitors, coaches and referees and we hope to see you all at  the "Open Dutch Championships 2021".
Master Willy van de Mortel
Open Dutch Taekwon-do Championships