It is my great pleasure to inform you that the AETF is going to organize an ONLINE TOURNAMENT:
AETF European Taekwon-Do Open E-Tournament 2021 for Pattern and Pre-Arranged Categories.

The E- Tournament will be held between 25th of April and 5th of May 2021 via platform of SportData Technology.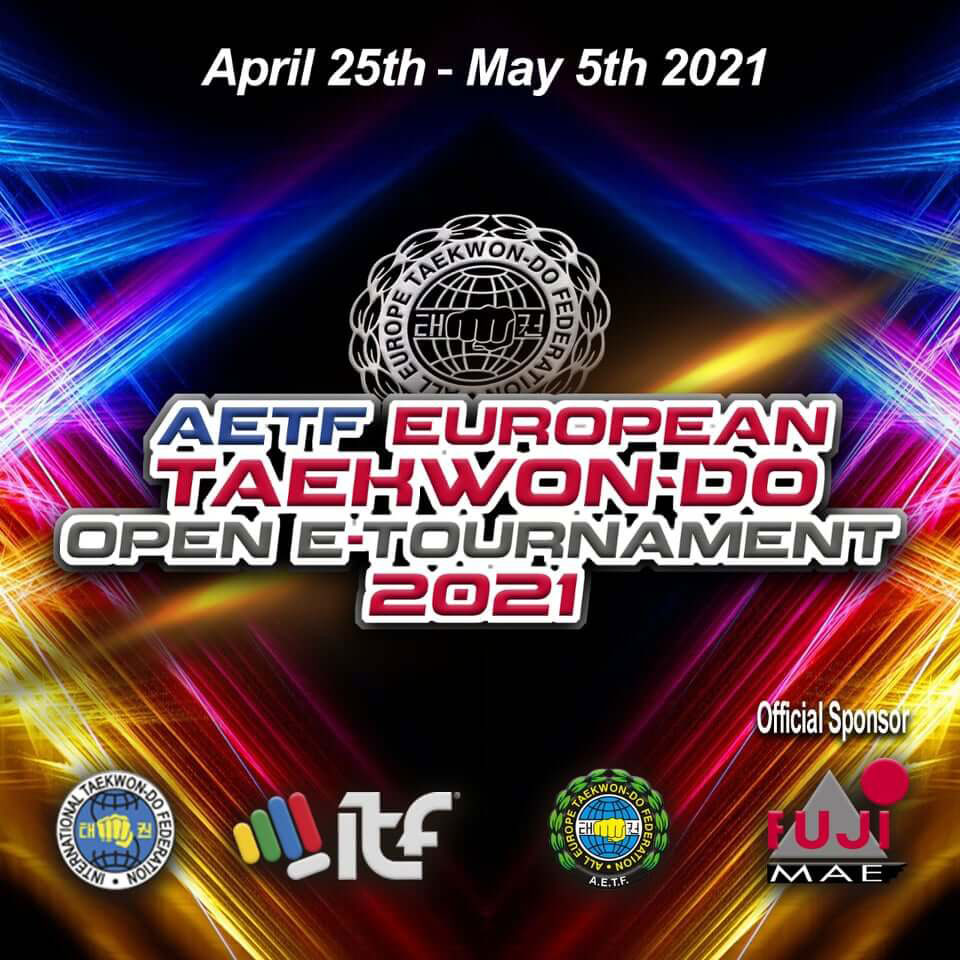 The tournament is dedicated to the competitors, holders of the degrees from 10th Gup to 6th Dan.
The participants will be divided in the following age groups: children, cadets, juniors, seniors and veterans.
The tournament will be organized in: Individual Pattern, Team Pattern and Pre-Arranged Sparring.
Below you will find important dates and the program of the event:
20th of February 2021: Beginning of the registration
20th of February 2021: Coaches information Meeting – 17:00 UTC
20th of February 2021: Umpires information Meeting – 20:00 UTC
10th of April 2021: End of application for Umpire – 23:59 UTC
17th of April 2021: End of Registration – 23:59 UTC
17th of April 2021: Deadline of the payment of competition fee
17th of April 2021: Deadline of submitting of the declaration of consent and data protection
24th of April 2021: Coaches Meeting – 19:00 UTC
25th of April 2021: Umpire Meeting – 19:00 UTC
25th of April 2021: Start of Competition – 10:00 UTC
5th of May 2021: Estimated end of Competition – 9:00 UTC
All competitors and coaches must be registered by their own club through ITF-ONLINE: https://www.tkd-itf-online.org.
If clubs and schools do not have access to the ITF-ONLINE, please ask your NA (AA) to create a club level access for your club or school.
The payment for entry fee have to be done through: https://itf-books.com/tournament-s/.
Should you have any questions about this event we invite you to contact Master Harry Vones, the Contact Person of the Organizing Committee at: [email protected].
All necessary data can be found on the site of Sportdata and the AETF/ITF: https://www.sportdata.org/taekwondo_itf/set-online/veranstaltung_info_main.php?active_menu=calendar&vernr=250#a_eventhead.
The ITF E-Tournament of last October was a great success and therefore we have decided to make it accessible to both AETF and our friends from the entire ITF community.
We encourage you to promote the AETF European Open E-Tournament 2021 among members of your federations.
We wish all participants good luck with the preparation and of course during the Tournament.
On behalf of the AETF
Master Coos van den Heuvel
AETF Acting President