Organised by the Colombian Taekwon-Do Association, the 167th ITF IIC was held at the Radisson Metrotel Hotel in Bogota, Colombia, from 18 to 20 August 2023.
It was attended by practitioners from 12 countries (Germany, Anguilla, Argentina, Brazil, Colombia, United States, Honduras, Mexico, Peru, Puerto Rico, Dominican Republic and Trinidad & Tobago) including 5 grand masters, 2 senior masters and 7 masters.

Among the special guests were ITF President, Grand Master Paul Weiler, and Treasurer Master Leo Oros Duek.
A unique IIC not only for the number of countries and 120 participants, but also for the impact of the return of the IIC to the Caribbean region, confirming the aim of the technical committee to bring the technical legacy of General Choi to every corner of the 5 continents.
GMs Héctor Marano and Ung Kim Lan, offered as always, 3 days of knowledge and unrepeatable anecdotes.
The first day they reviewed all forms of colour, with particular emphasis on the basics and methodology of correction from the first steps.
GM Ung also shared general concepts of self-defense and sparring.
On Saturday 19th during the afternoon, Sabum Nim Gaston Casero, chairman of the Harmony Committee, gave a practical presentation of his programme, which is already becoming a success in several countries, thus achieve its main objective: to bring Taekwon-Do to more people in order to improve their quality of life.
During the evening the traditional gala dinner was held which allowed all participants to enjoy the camaraderie of our art.
Sunday 20th started with a special class on physiology and anantomy by ITF President, Grand Master Paul Weiler, which included general advice on warm-up and how to protect muscles and joints.
For the last block, the 4-6 dan forms were reviewed while the rest of the group reviewed their forms with Grand Master Rubén Suárez.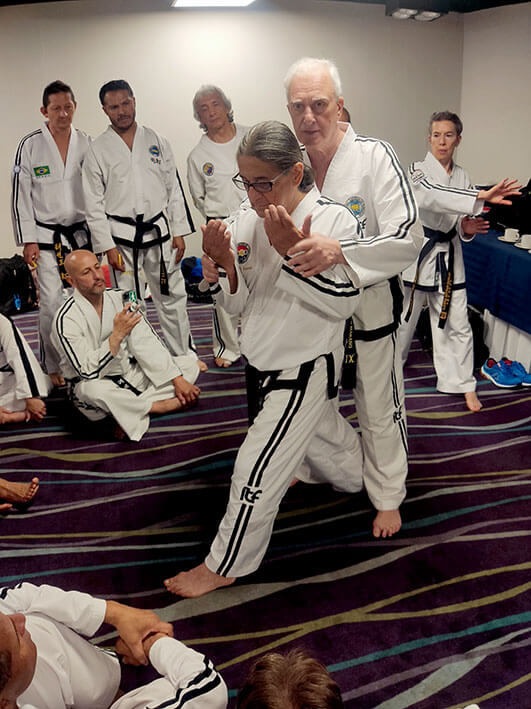 In addition to the quality of the general content, the participants highlighted the care of the organisation in every detail, giving an unforgettable extra brightness.
In other words, a new IIC that amply achieved the expectations of all participants and the ITF.
Colombia is proud to have once again hosted a world-class event.