From April 2nd to April 5th the 1st ITF seminar has been held at Antananarivo (Capital of Madagascar) with the participation of more than 100 TKD practitioners from white belt to 3rd degree black belt. (22 black belts were performing). Sine wave, fundamental exercises, pattern, step sparring and self-defence were taught over 4 days. Also information about common mistakes in warming up exercises were given and anatomy and physiology advice.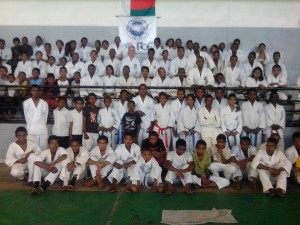 Participants of the 1st ITF seminar in Madagascar.
At the end of the daily seminar the students had the opportunity to be promoted and on Sunday afternoon the black belt grading of 15 black belts were confirmed. The national television reported from a part oft he seminar, which can be seen, on Facebook.
On April 1st we had a meeting with the Sports minister, Mr. ANDRIAMOSARISOA JEAN ANNICET (see photo below) and were talking about the further development of ITF in Madagascar. He was very much interested in the strategy of the ITF to help and to develop and he promised to help the federation with administrative and even financial support. He emphasised to give financial support for the trip for 4 competitors for their participation at the 4th African Cup to be held in Pretoria on April 11th, 2015. The Quadrathlon book was given to him, which he took with gratefulness and pride.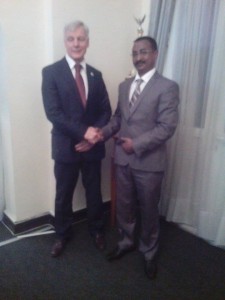 It looks that ITF will have a good future in Madagascar and I thank all involved people who made this seminar possible, especially the Sports minister, Mrs. Victorine, family Rakotoarisoa and some black belts. The federation asked already for another seminar at the end of the year.
Master Paul Weiler