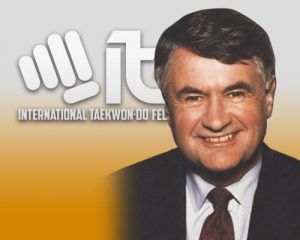 ITF Acting President, 2002 to 2003.
Former Premier Russell MacLellan, B.A., LL.B, who was also a Canadian Member of Parliament and Member of the Legislative Assembly, was serving as the Senior Vice President of the ITF at the time of General Choi's death on June 15th 2002.
Following the passing of General Choi, under the constitution of the ITF, Mr MacLellan became the acting ITF President until the democratic election of Grandmaster Trân Triêu Quân on June 13th 2003 at the ITF Congress in Warsaw, Poland.
In addition to the life long public service career of the Honorable Russell MacLellan, he was a longtime Black Belt Student and Instructor of ITF Taekwon-Do who very much appreciated the many benefits the training instills.
A lawyer and member of Nova Scotia Bar. Past Premier of Nova Scotia and leader of the Nova Scotia Liberal Party. A 21 -year veteran of public life as a Member of the Legislative Assembly of Nova Scotia, and as a Member of Parliament. A tested manager of contentious public issues with a proven ability to advance an agenda. A strong record in public consultation and consensus-building. An energetic and experienced communicator with intensive experience in dealing with all media.
To learn more about the life of the Honorable Master Russell MacLellan
Skills and accomplishments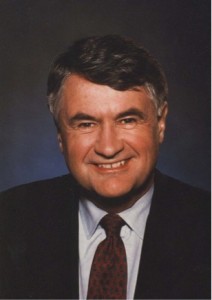 Elected successively in five federal and three provincial elections.
English and diminished French, due to lack of practice.
Black Belt in Taekwon-Do.
As Parliamentarian:
As Parliamentary Secretary to the Minister of Regional Economic Expansion, helped to develop regional development policies, particularly those for Atlantic Canada.
As Parliamentary Secretary to the Minister of Health, guided the National Health Act (1984) through committees, and through House of Commons. A cornerstone of Canada's health care system, this legislation codified and guaranteed national standards for one of the most admired systems of universal health care in the world.
As Parliamentary Secretary to the Justice Minister, helped modernize national legislation that addressed gun control, family violence, child pornography, sexual assault, stalking and national unity issues.
Championed critical infrastructure investments in education, health and transportations sectors.
Represented the respective Ministers at events, both nationally and internationally, as well as various speaking engagements.
As premier:
Staked political career on the 1999 Health Investment Fun, a budget proposal to stabilize funding for Nova Scotia's acute health care sector while making long-term investments in home care, nursing homes, community clinics and technology.
Consulted and prepared the community for the privatization or closure Sydney Steel Corp. and the Cape Breton Development Corp. Led a concerted campaign for fair compensation for displaced coal miners resulting in arbitration process and award in June 2000.
Introduce a long-term resource royalty regime in Nova Scotia that safeguards the public interest while encouraging risk and reward by the energy industry. Improve Nova Scotia's benefit regime for Tier One development of Sable offshore natural gas reserves.
Forged closer trade and investment link with New England, and the Commonwealth of Massachusetts in particular through the creation of Nova Scotia – Massachusetts Economic Summit.
Led and supported a multi-stakeholder group to promote the Port of Halifax as Post-Panamax shipping centre, and recruited Sir Graham Day to advance the Port's bid for aesk/Sea-Land traffic.
Proposed a doubling of capacity at the Nova Scotia College and budgeted a study to plan the growth strategy.
As Opposition Leader:
Restored caucus morale and solidarity after difficult electoral result. Led a vigorous Opposition through two sittings of the legislature. Stepped down as leader with the Liberals ahead of all Nova Scotia political parties in public popularity.
Experience
Member of Nova Scotia Legislative Assembly for Cape Breton North from 1997 – 2000.
Provincial Liberal Leader of the Opposition and critic for Nova Scotia Resources Ltd., Human Rights Act, The Status of Women Act, ans Intergovernmental Affairs (1999-00).
Premier of Nova Scotia with ministerial responsibility for the Petroleum Directorate, Aboriginal Affairs and Intergovernmental Affairs (1997-99).
Member of Parliament from 1979 to 1997, winning the re-election in 1980, 1984, 1988 and 1993, winning the 76 percent of the popular vote in the final federal campaign.
Parliamentary Secretary to the Minister of Mines, Health and Welfare, Regional Economic Expansion and Justice.
Federal Liberal Opposition critic for Consumer and Corporate Affairs, Energy and Justice.
Campaigned on behalf of the Charlottetown Accord, and chaired on Accord sub-committee on Aboriginal Affairs (1990).
As Federal Energy critic, consulted widely with Western Canada's energy industry, and led a process to reform the energy policy of the Liberal Party of Canada (1988).
Represented Canada before the World Health Organization and the United Nations.
From 2002 – 2003 was President of the International Taekwon-Do Federation and holds a 6th dan Black Belt in Taekwon-Do.
Operated a successful private law practice in Sydney, Nova Scotia (1973 – 1979).
Legal Counsel and Assistant Secretary of the Sydney Steel Corp. (1971 – 1973).
Executive Assistant to the President and Vice – President of the Cape Breton Development Corp. (1968 – 71).
Education:
French Studies, l'Institute de Touraine, Tours, France (1965).
Bachelor of Law, Dalhousie University, Halifax (1965); Articled with Stewart MacKeen & Covert; admitted to the Bar (1966).
Bachelor of Arts, University of Kings College, Halifax (1962).
Personal:
Married to Ann MacLean and father of two; Sarah and Matthew.
An avid golfer and martial artist, played on university teams in golf, tennis and curling. Other interests including reading non-fiction and classical music.