After months of anticipation, the Gold Coast, Australia welcomed ITF President Grandmaster Trajtenberg and the ITF Technical committee composing of Grand Master Marano, Grand Master Lan and Master McPhail to conduct International Instructor Course number 103 over the weekend commencing Friday 31 July 2015 and concluding Sunday 2nd August 2015.
Prior to kicking off the seminar the day before ITF President along with the technical committee and the 2018 ITF World Cup organising committee visited the Gold Coast Convention Centre for a media press conference meeting with the Gold Coast Mayor and Government officials with a report being published the following day in the newspaper promoting the event and inviting all participants from around the world to an event not to be missed. The Gold Coast Australia will have a few unexpected surprises never seen before.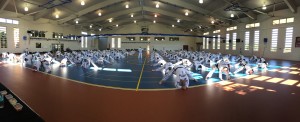 DAY 1
Day 1 commenced early Friday morning with a Masters Examination being conducted with four Masters being promoted. 2 promotions to 8th degree of Master Mahesh Bhana of New Zealand and Master Ray Nicolaisen of Norway also Master Gray Patterson and Master Andrew Salton of New Zealand were promoted to 7th degree. Master Daher and the organising committee congratulate you all on your successful promotions.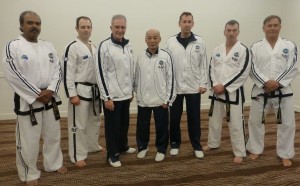 After formal IIC registrations were completed by the organising committee coach bus transfers were awaiting all participants in the afternoon to transfer all members to the course venue ready to train and learn under the ITF Technical Committee.

Day 1 kicked off with Grandmaster Trajtenberg officially opening the IIC. Grandmaster Trajtenberg Started proceedings with a fantastic talk on General Choi and some Taekwon-do theory based on the Theory of Power and the 9 training secrets. Master McPhail then stepped up and took a really enjoyable warm up involving tuls with a playful side, for example having to do a push up every time we performed a block in Won Hyo. Lots of fun and a great workout enjoyed by all as was seen by their reactions and energy displayed.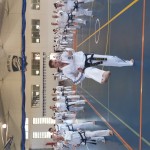 Grandmaster Marano then conducted his first session of the IIC as tuls Chon-ji through to Do-San were broken down and explained in great detail. The session concluded with Grandmaster Lan going through step sparring and what the importance was for each three step, two step and one step sparring, at this point everyone paired up and went through a few drills.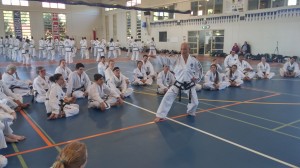 DAY 2
Day 2 started bright and early with Grand Master Lan taking the warm up and getting everyone sweating and ready for tuls with Grand Master Marano who took the paricipants through the previous day's tuls right through to Choong Moo tul.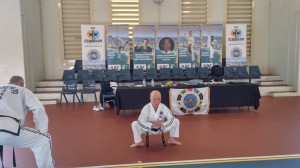 Master McPhail then conducted a really enjoyable session on self-defence and gave a lot of insight into the new curriculum being applied in New Zealand which focussed on how to diffuse a threatening situation to the extent of how to deal with it. A great session indeed.
After lunch there was another session on Tuls, reaching Juche tul, considered by most to be the most difficult of Tuls however with the explanation and detailed tips given to us by Master McPhail, Juche is easier, well at least they are able to perform it better, than previous as was stated by many to the organising committee.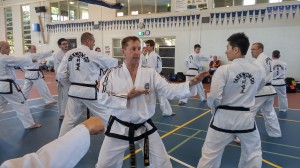 The day concluded with another wonderful session conducted by Grand Master Lan which included sparring drills which were dynamic and physically demanding yet noticeably enjoyable by all participants' facial expressions and reactions.
Saturday night all members were dressed to impress in attendance of the special dinner banquet launch of the 2018 ITF World Cup Gold Coast with VIP guest in attendance President Trajtenberg along with the Grand Masters, Masters and The President of The Oceania Taekwon-do Federation Master Michael Daher. After welcoming speeches and 2018 ITF World Cup promotional videos the VIP guests and members were entertained by Genesis Beatboxer. Genesis is ranked 8 in the World at the last beat box world championships held in Berlin Germany. He had all dumbfounded to how he could make music and sing and all the wonderful and weird sounds being generated by his mouth only. Simply amazing. The ITF President, Grand Masters and Masters along with the newly promoted Masters were all presented with special gifts by the Oceania President Master Michael Daher. Master Daher also presented a special unexpected gift to Mr John Abdallah who tirelessly works behind the scenes heading the organising committee for the IIC 103 Gold Coast as well as heading the organising committee under Master Daher to deliver the 2018 ITF World Cup Gold Coast. We thank you once again John Abdallah for making all these things happen.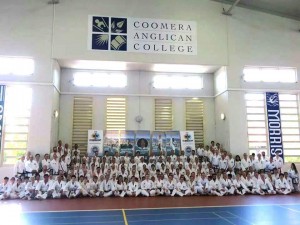 DAY 3
After two fantastic and informative days, day 3 commenced with a wonderful photo of all attendees to commemorate this wonderful event. After the photo, Grand Master Marano outlined what the final day had in store for everyone. Grand Master Lan took the morning warm up session, as he had done the previous day making sure everyone was warm stretched and ready for training and more learning for the day. All belts up to and including second degrees were taken aside and together with Master McPhail went through and revised their tuls whilst 3rd degree holders and above remained with Grand Master Lan and went through tuls Sam-il, Yoo-sin and Choi Yong. For the next hour or so these tuls we're broken down step by step and explained in great detail.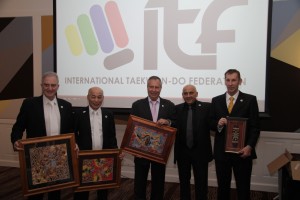 I just have to add that participants were in awe of Grand Master Lan's skill and energy, he is so full of energy and positivity. Once completed, ITF President, Grand Master Pablo Trajtenberg took over and went through 4th Degree tuls, Yon-gae, Ul-Ji and Moon-Moo. What a wonderful session, very easy for members to follow and so enjoyable, the session was very interactive and again detailed. The patterns were made so easy and members were visibly executing with more powerful and fluidly, like water, the analogy used by GM Trajtenberg, and to quote him, it all seems so natural now for many on the floor.The next session had Grand Master Lan conducting a sparring session and then a self defence session for all levels up to 4th Degree, in which was very enjoyable and informative.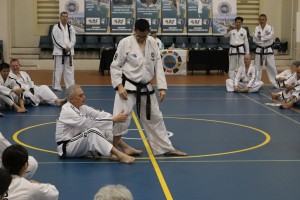 Grand Master Marano's attention to detail and his immeasurable wealth of knowledge is incredible, he is so precise and it is no wonder he is the chairman of the technical committee. He took us through 5th Degree tuls, So-San and Se-Jong, great session, with great detail and explanation, he never cuts anything short and always has time to explain, and what great explanations. The final session was for all participants 6 Degree and above to go through Tong-Il with Grand Master Marano. He made even the most difficult techniques easy with his detailed explanations and guidance. Members wished they had more time with him and everyone was mesmerised with his teaching and detail.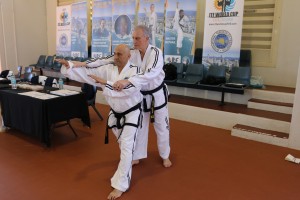 The day unfortunately came to a close after this and each of the Grand Masters, Masters shared their thoughts and gave closing speeches. All the Masters along with the ITF president and the technical committee were presented with a small didgeridoo as a parting gift from this IIC103.       ITF president Grand Master Trajtenberg then officially closed the 103rd IIC with his closing speech.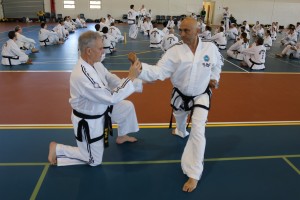 The day however did not end here as once we arrived back to the hotel from the seminar location, a group of about 40 members led by Mr Moustapha El-Sheikh went down to Surfers Paradise beach and mall for a quick video and photo shoot to promote 2018 ITF World Cup, another thrilling experience which the ITF President, Grand Masters & Masters enjoyed, as did the unsuspecting public. ITF President was interviewed after the demonstration by local newspaper reporter in attendance who witnessed the beach Taekwon-do demonstration.
We would like to make special mention and thank The President of International Taekwon-do ( New Zealand ) Master Evan Davidson and all the Masters and Members from New Zealand who travelled across & supported this event on the Gold coast making it a huge success from all levels and we look forward to 2017 IIC where Australia will be guests in New Zealand.
We would also like to make special mention & thank Master Peter Barbour President of Allied National Taekwon-Do Association Australia and all instructors and members who travelled from across Australia and supported this IIC contributing to its success
The ITF President Trajtenberg along with Grand Masters Marano and Lan were welcomed to Sydney Australia where Master Michael Daher had a stretched Hummer Limousine awaiting the ITF President to escort him to his accommodation in Sydney where the following days were spent talking Taekwon-do and seeing the sights in Sydney with special host Mr Steve Sarkis & Nelson Taione.
Below some feedback from attendees received by the organising committee.
(On a personal note, what a truly wonderful experience, I have never experienced anything like it. I have never attended a seminar that I just wished would keep on going, I loved every second of it.)
(What more can be said about the ITF President and Technical committee, they are wonderful people and leaders in every sense. My only regret is that it was only 3 days. )
(I will definitely be attending future events. I am new to ITF after moving from another group and I am so happy that I have come across. The professionalism and expertise and knowledge of the Grand Masters are unrivalled. But more importantly, they are wonderful people who want what is best for us, all ITF members and they are definitely doing all they can to ensure that Taekwon-do and the legacy left by General Choi is carried on and respected.)
(A big thank you to Master Daher and his team, especially Mr Abdallah, who put this wonderful event together. It was a real pleasure, a wonderful experience.)
Report Compiled by the Organising Committee on behalf of
Master Daher
VIII degree
ITF Board Member
President Oceania Taekwon-do Federation
President ITF Taekwon-do Australia.